Most Christians should agree that the Bible is more than pop-psychology or self-help literature. Nevertheless, the Bible still contains powerful emotional and psychological principles that can help us improve even our temporal lives. At least part of the "abundant life" offered by Jesus (John 10:10) can be grasped and enjoyed this side of eternity.
It's with this in mind that I want to discuss overthinking. Overthinking can rob us of joy, abundance, the peace of God the surpasses understanding (Phil. 4:7), and so much more if we let it. Thankfully, the gospel contains good news for overthinkers. Because we serve a God who is with us and guides us, we don't have to let overthinking shipwreck our peace of mind.
We Can Be Still
God's sovereignty is more than a theological concept for old books and stuffy classrooms. The sovereignty of God has real, palpable applications. One of the applications of God's sovereignty is the ability of those who trust in him to be still. Psalm 46:10 is well-known:
Be still, and know that I am God. I will be exalted among the nations, I will be exalted in the earth!
The context of Psalm 46 adds even more reassurance. Notice Psalm 46:1-3:
God is our refuge and strength, a very present help in trouble. Therefore we will not fear though the earth gives way, though the mountains be moved into the heart of the sea, though its waters roar and foam, though the mountains tremble at its swelling.
We can "be still" because God is our refuge and strength. When we are overthinking because we are in a bind, or anxious, or stressed, God hasn't changed. God hasn't moved. He still right there with us and he's still God. We don't have to overthink—we can be still and know that God is God. This is a consequence of God's sovereignty. His ability to act and to have dominion over the situations in our life isn't dependent on our activity or overthinking. Otherwise, he really wouldn't be sovereign.
Sometimes the best solution to the problem that is keeping our mind churning at night is to obey God and be still—to wait for him even when it feels like the earth has given way and the mountains have moved. When you are tempted to go down the rabbit hole of overthinking, choose instead to "be still before the Lord and wait patiently for him" (Ps. 37:7).
When Jesus and his disciples were being tossed by the rough waves of Galilee (Mark 4:35-41), Jesus was able to sleep during the panic because he knew God was sovereign over the situation. Then, Jesus rose and rebuked the storm, commanding it, "Peace! Be still" and immediately it ceased. How often do we allow the unruly gusts to be more obedient than us? Why is it that when God's Son told the wind to be still it was, but when it's our turn to be still we rage on? We can be still and know that God will still be Lord over whatever we're overthinking about. We can be still because God reigns supreme over the universe. No amount of overthinking can accomplish what God alone is able to do.
Overthinking Never Achieves the Desired Result
Jesus directly addressed the kind of anxious overthinking that so often disturbs our peace of mind. An entire section of Jesus' sermon on the mount is dedicated to why his disciples don't have to be anxious overthinkers (Matt. 6:25-34; cf. Luke 12:22-34). The reasons Jesus gives for why his followers don't need to be anxious include:
God will take care of them like he takes care of flowers and birds (Matt. 6:25-26, 28-30).
God knows what his believers need (Matt. 6:31-32).
If Jesus' disciples seek God's kingdom and righteousness first they will receive whatever they need (Matt. 6:33).
Each day is sufficient for its own trouble so there's no reason to worry about tomorrow (Matt. 6:34).
The most potent reason in my opinion was purposefully skipped in the list above. It is found in Matthew 6:27: "And which of you by being anxious can add a single hour to his span of life?" (ESV). Anxious overthinking isn't worth it because it doesn't—actually can't—even accomplish what we want it to accomplish. We can anxiously overthink what seems like even our most pressing concerns and problems, and we're no closer to a solution. Overthinking is not the same thing as problem-solving and can even cloud our judgment or cause us to perform worse in high-pressure situations.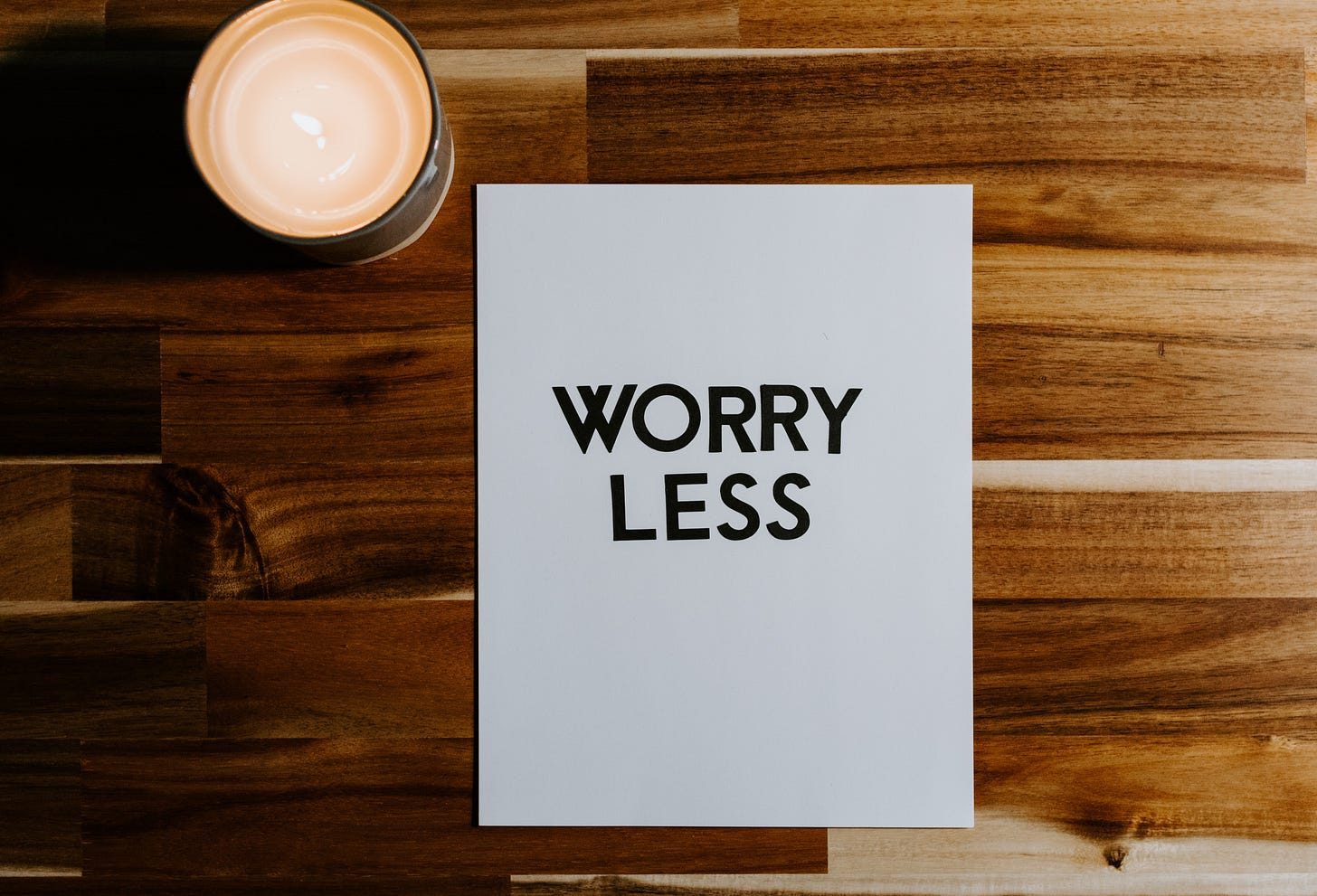 We overthink as a defense mechanism. We think that our problems can be solved or our worst-case scenarios avoided if we just think enough. But, not even hours of anxious overthinking can add a single hour to our span of life. Overthinking will never produce the desired result. Since overthinking won't work anyway, we might as well "seek first the kingdom of God and his righteousness" instead (Matt. 6:33).
Our Own Understanding Isn't as Valuable as We Think
There's a subtle, often-unstated pride in overthinking—as if the abundance of our thoughts is potent enough to accomplish anything we desire. Experience and reason tell us that this isn't the case. The testimony of Scripture regarding our thoughts is even more convincing. The wisdom of God has a helpful reminder for when we overthink:
Trust in the Lord with all your heart, and do not lean on your own understanding. In all your ways acknowledge him, and he will make straight your paths. Be not wise in your own eyes; fear the Lord, and turn away from evil. It will be healing to your flesh and refreshment to your bones. (Prov. 3:5-8 ESV)
When we are tempted to start overthinking, we should remember that nothing will come from leaning on our own understanding and being wise in our own eyes (whether explicitly or implicitly). Instead, when the urge to overthink is about to overcome us, we should run to the Lord, fear him, and trust him with our entire heart. Then, instead of the hand-wringing and sleeplessness of overthinking, we'll be able to experience the healing and refreshing of the Lord.
If you are an overthinker you are not alone. Most importantly, God is with you, and he will sustain you. He can help you be still.